The Comelit range comprises of a vast range of entrance panels and audio and video handsets to suit your needs. Most product lines are available in 2 wire and IP.
The most popular entrance panels are:
IKALL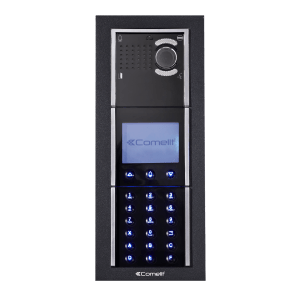 Clean, attractive lines and modular elements guaranteeing optimal results by offering simple configuration, style and reliability.
• Large display
• Name uploading via USB port
• Audio-visual indications by means of pictograms with LED backlighting and audio messages
• Programmable welcome message
VANDALCOM
Vandalcom is the anti-vandal stainless steel entrance panel designed to withstand even the most violent acts of vandalism.
• Boxes are made using 1.5 mm thick galvanised aluminium
• Impact-proof modules created using 2 thick stainless steel plates,
• Stainless steel short stroke buttons flush with the plate
316 TOUCH
• Stainless steel flush-mounted entrance panel with 8′ capacitive touch screen featuring high visibility and impact-proof glass
• Operation with configurable graphics (list of names with search, virtual static buttons up to 10 users, alphabetised directory, number code up to 8 digits).
• Users and settings are simple to program using VIP Manager software
BESPOKE
All of our panels are made from the highest 316 Marine Grade stainless steel and designed to cope with the very worst conditions. Polished stainless steel and brass also available.
• The plates are 2.5mm thick to withstand physical assault
• We offer surface and flush mount options.
• Manufactured in the UK, so it is tailored to your specification with a particular size, company logo and more
ROMA
QUADRA
STAINLESS
EMERGENCY