With GSM comes freedom. Answer calls from your door or gate from any telephone number including your mobile so you never have to miss that important caller. Systems are available from single call button applications up to 1000 apartment applications – all with the facility to divert to a second number if the first is busy or unanswered. These Videx GSM Audio Entry Kits employ quad band mobile phone technology to communicate and operate doors, automatic gates and remote site applications.
Videx GSM Audio Entry Kits – Key features:
Dial to open facility (open the door/gate via your telephone without any charge for the call)
Divert to a second number if the first is busy or not answered.
Balance check facility (Network provider dependant) with automatic text when balance falls low.
Signal strength checking facility.
Totally self contained only requiring an external power supply and antenna.
Digital panels include back lit LCD display and voice annunciation call progressing facility.
Time bands available on the digital panel to allow each user to decide when they want to stop receiving calls (i.e. late at night)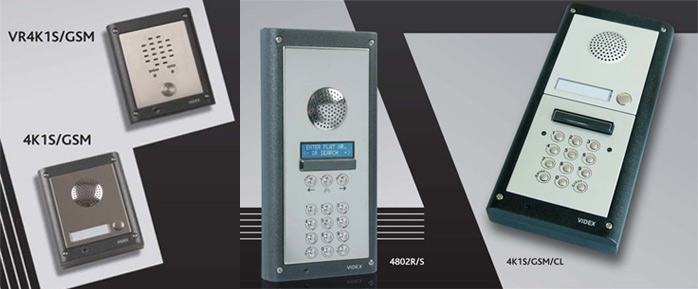 Videx GSM 4000 SERIES STYLE:
Part of the Videx GSM Audio Entry Kit range, the GSM 4000 series is available with 1 – 50 individual call buttons or as a digital panel with either name scroll facility or alpha numeric keypad. Based on the 4000 Series modular system these panels are highly flexible enabling full customisation of panel features such as integral coded access or proximity access, available in a variety of panel finishes both surface and flush mounting (face plates available in mirrored stainless steel, gold or matt aluminium, surrounds available in gun metal grey, chrome or gold). A vandal resistant version is also available for up to 10 individual call buttons also using the 4000 series frames (or custom size panel) but with a 12 gauge stainless steel faceplate and IP68 rated vandal resistant call buttons. Digital panels employ a standard telephone keypad layout and benefit from call progress voice annunciation to guide the caller through the entire calling process, integral coded access for up to 1000 codes and a back lit 2 line x 16 character LCD display.
GSM VANDAL RESISTANT DIGITAL:
Available flush mounted and incorporating the same functionality used in the 4000 series digital panel but with the added protection of a 12 gauge stainless steel faceplate.
Parts:
KITS
4K1/GSM – 4K12/GSM
1 – 12 button 4000 Series flush kits c/w 12Vdc 2A PSU and antenna
4K1S/GSM – 4K12S/GSM
1 – 12 button 4000 Series surface kits c/w 12Vdc 2A PSU and antenna
4K1/GSM/CL – 4K12/GSM/CL
1 – 12 button 4000 Series flush kits c/w keypad, 12Vdc 2A PSU and antenna
4K1S/GSM/CL – 4K12S/GSM/CL
1 – 12 button 4000 Series surface kits c/w keypad, 12Vdc 2A PSU and antenna
VR4K1/GSM – VR4K10/GSM
1 – 10 button VR4K vandal resistant flush kits c/w 12Vdc 2A PSU and antenna
VR4K1S/GSM – VR4K10S/GSM
1 – 10 button VR4K vandal resistant surface kits c/w 12Vdc 2A PSU and antenna
VR4K1/GSM/CL – VR4K10/GSM/CL
1 – 10 button VR4K vandal resistant flush kits c/w keypad, 12Vdc 2A PSU and antenna
VR4K1S/GSM/CL – VR4K10S/GSM/CL
1 – 10 button VR4K vandal resistant surface kits c/w keypad, 12Vdc 2A PSU and antenna
MODULES
4810N-0, 4810N-1, 4810N-2,4810N-1D, 4810N-2D
4000 Series GSM speaker module with 0, 1, 2 or 4 buttons
4843, 4844, 4845, 4843D, 4844D, 4845D
4000 Series 3, 4, 5, 6, 8 or 10 button module
Art.4800
4000 Series coded access keypad module
Art.4850
100 user self contained proximity reader module
VR4KGSM-0, VR4KGSM-1, VR4KGSM-2, VR4KGSM-3
VR4K vandal resistant GSM speaker module with 0, 1 or 2 buttons
VR4KBM-4, VR4KBM-5, VR4KBM-6, VR4KBM-7, VR4KBM-8, VR4KBM-9
VR4K vandal resistant 4, 5, 6, 7, 8 or 9 button module
VR4KCLM
VR4K coded access keypad moduler
Art.4802
Digital 4000 Series panel (2 modules in size) with alpha keys A-F
Art.4802R
Digital 4000 Series panel (2 modules in size) with name scroll facility
4881, 4882, 4883, 4884, 4886, 4889
4000 Series 1, 2, 3, 4, 6 or 9 module surface frames for 4000 series and VR4K series modules
4851, 4852, 4853
4000 Series 1, 2 or 3 module flush frames for 4000 series and VR4K series modules
VANDAL RESISTANT DIGITAL
 VR4802
Flush vandal resistant digital GSM panel
ANTENNA AND PSU
 432
 Antenna
 324
 12Vdc 2A switched mode din rail/wall mount power supply