Magnetic Solutions Glass Fixing Kit for MS41 Shearlock
The MS41 glass fixing kit is to be used when fixing the MS41SSM and its armature to a glass door.
It is a single U bracket for either the surface magnet or surface armature. If fixing to glass/glass two kits are required (see below).
The kit is suitable for 10 or 12mm glass.
Contact us if you require adhesive or glass cleaning pads, to use alongside the MS41 glass fixing kit.
Click here to view the MS41SSM shearlock itself.
See some more information from the manufacturer.
About the MS41 Shearlock
GB Locking Systems have sold the MS41 shearlock for over 15 years, and have many satisfied customers. The MS41 is manufactured in the UK, ensuring high quality and short lead times for projects. These magnetic shearlocks are suitable for many different door types, including timber, metal and glass.
The MS41 is available as a mortice magnet and armature (for flush fitting, MS41SFM) or in a housing (for surface fitting, MS41SSM). The MS41 glass fixing kit is used with the surface mounted shearlock.
The compact design ensures the MS41 is aesthetically pleasing and will fit even where space is at a premium. Suitable for sectors such as industry, offices, retail, education etc.
The MS41 shearlocks are also available in a custom length transom housing. These are manufactured as a special order, and are available in a choice of powder coated finishes and colours. See an image below of a solution for a double door.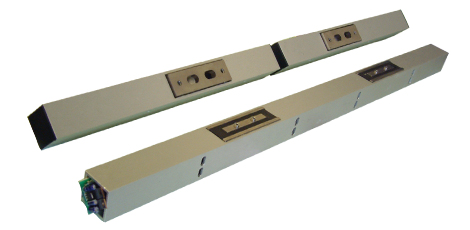 Specifications
Compact 30mm x 117mm
Up to 1000kg shear force
Flush or surface mounting or a combination
Glass mounting for door and over panel
No loss of headroom
Monitored locking
Integral door reed contact
12/24vdc voltage range
1.5A pull in for 2 seconds
0.5A continuous hold
Contact us for more details and expert advice on the MS41 range.